Hartslagmeting bij de pols
De Forerunner 235 maakt gebruik van een optische sensor die 24/7 uw hartslag meet bij de pols2, zodat u kunt hardlopen zonder borstband. De kleurrijke meter geeft uw hartslagzone en aantal slagen per minuut in real-time weer.
Pas uw horloge en uw training naar wens aan
Geen hardloper is hetzelfde en iedereen heeft andere doelen. Download de geavanceerde workouts en trainingsplannen via Garmin Connect naar uw horloge en gebruik deze om uw eigen doelen te behalen. U kunt zelfs uw eigen gegevensvelden aanpassen en gratis wijzerplaten, widgets en apps downloaden via Connect IQ.
Hardlopen waar u maar wilt: Op straat, in het bos of op de loopband
De ingebouwde versnellingsmeter legt afstand- en tempogegevens vast tijdens indoortrainingen of trainingen op een loopband zonder dat daarvoor een aparte voetsensor nodig is. Na het hardlopen functioneert het horloge als een activity tracker² die uw aantal stappen en verbrande calorieën gedurende de dag bijhoudt. Ook krijgt u een aansporing om te gaan bewegen als u langer dan een uur hebt stilgezeten. Doordat de Forerunner 235 compatibel is met GPS- en GLONASS-satellieten, kan het horloge snel en nauwkeurig uw locatie bepalen, ook als u zich in het bos of tussen hoge gebouwen bevindt.
Eenvoudig het overzicht houden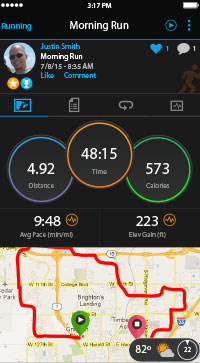 Volg uw activiteiten en bekijk uw vorderingen ten opzichte van gestelde doelen, upload draadloos naar de online Garmin Connect community en bekijk de resultaten op eenvoudig af te lezen grafieken, detail- en overzichtskaarten. Op die manier kunt u wekelijkse stap- of hardloopcompetities houden met vrienden of familie en via LiveTrack uw resultaten real-time vergelijken. Gebruik de draadloze verbinding van de app ook om rechtstreeks op uw compatibele Garmin toestel informatie te ontvangen over de huidige weersomstandigheden, weerberichten en smartphone meldingen.
Personaliseer de watch face van uw horloge
Download de gratisGarmin Face It™ watch face app om uw toestel te personaliseren met een foto van uw smartphone. Download de app, kies een foto in uw fotobibliotheek, pas de tijdweergave aan en stel de foto in als de watch face van uw horloge. Met Garmin kunt u uw horloge een persoonlijke touch geven, bijvoorbeeld met een foto van een schitterend uitzicht die u hebt genomen op uw laatste wandeltocht of een foto van uw nieuwe puppy.
1Indien gekoppeld met een compatibele smartphone.
²Nauwkeurigheid van activity trackers
³Indien gekoppeld met de Garmin Connect Mobile app
Gebruik en onderhoud van uw toestel