Stijlvol, hybride smarthorloge met verborgen scherm en nauwkeurige wijzers
Volg 24/7 uw hartslag1 met de Elevate™ polshartslagtechnologie
U beheert uw stressniveau met wellnessfuncties zoals stresstracking gedurende de hele dag en een relaxtimer
Bevat functies voor fitness-monitoring, zoals VO2 max. en fitnessleeftijd
Toont het stappen, calorieën, afstand, hartslag en minuten intensieve training1
Blijf verbonden met slimme functies2, zoals automatisch uploaden, smartphone meldingen, muziekbediening en meer
Batterijlevensduur3: Maximaal 5 dagen in de smartmodus, maximaal 2 weken in de horlogemodus
U bent met de vívomove HR slechts een tik verwijderd van stijlvol sporten. Dit stijlvolle smarthorloge heeft een touchscreen met verborgen scherm. De nauwkeurige wijzers geven de tijd aan en verplaatsen zich als u door uw berichten, hartslag1 en nog veel meer bladert. Het toestel houdt uw aantal stappen en calorieën bij en bewaakt tegelijkertijd uw algehele welzijn, met behulp van de stresstracking gedurende de hele dag1.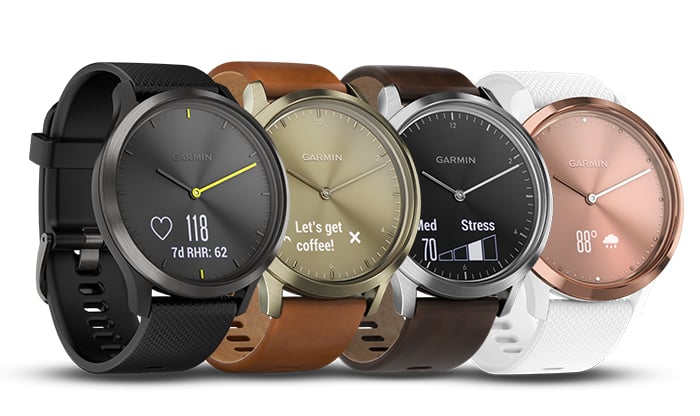 Hybride smarthorloge
Het beste van twee werelden met zowel analoge precisiewijzers als een smart display. Het slimme scherm verschijnt alleen als u snel uw pols beweegt om even op uw horloge te kijken. Als u het touchscreen aanraakt, verplaatsen de wijzers zelfs. De wijzers komen terug als u klaar bent op uw horloge.
Stijl versus hart
U hoeft niet in te leveren op stijl als u iets functioneels wilt hebben. Dit elegante horloge meet uw hartslag vanaf uw pols. Uw vívomove HR gebruikt behalve uw aantal stappen en uw slaapgedrag ook uw hartslag voor het berekenen van het aantal verbrande calorieën en de intensiteit1 van uw workouts.
Stresstracking
U ervaart zeer waarschijnlijk stress gedurende uw dag, maar wanneer gebeurt dat precies? Dankzij het vívomove HR smarthorloge weet u of u een rustige, gemiddelde of stressvolle dag heeft gehad, dankzij de stresstracking gedurende de hele dag. Als uw stressniveau gedurende de dag stijgt, weet u dat u even moet pauzeren om mogelijk hoofdpijn of andere fysieke symptomen van stress te verminderen. Voer met behulp van de relaxtimer een diepe-ademhalingsoefening uit om uw stress te verminderen.
Geavanceerde slaapmonitoring
Slaap kan uw gezondheid, stemming en algehele welzijn verbeteren. vívomove HR biedt geavanceerde slaapmonitoring die meet hoeveel slaap u krijgt en hoeveel tijd u doorbrengt in elk slaapstadium². Het horloge gebruikt gegevens van uw hartslag en hartslagvariabiliteit om te meten hoeveel tijd u doorbrengt in elke slaapfase - licht, diep en REM-slaap. U kunt de gegevens later bekijken in Garmin Connect.
Pas uw stijl aan
Wat u ook draagt, vívomove HR is het perfecte accessoire. Het is compatibel met de 20mm polsbanden met snelsluiting (quick release). U kunt een polsband in elke kleur gebruiken en die wisselen wanneer u maar wilt.
Verzameling van fitnessgegevens
Dit horloge beschikt over diverse fitnessfuncties waarmee u een beter beeld krijgt van uw huidige fitnessniveaus. Met de polshartslagmeter kunt u een schatting maken van uw VO2 max. Het toestel berekent ook uw fitnessleeftijd. Als u hard werkt en regelmatig sport, wordt uw fitnessleeftijd na verloop van tijd lager.
Slim en elegant
Mis geen tekstbericht of melding dankzij de smartphone meldingen2 die op uw digitale scherm worden weergegeven. Uw fitness- en wellnessgegevens worden automatisch geüpload naar de gratis Garmin Connect™ online community. Bedien uw muziek vanaf uw horloge
De Move IQ™ functie
U hoeft uw activiteiten-timer niet voor elke wandelactiviteit te starten of te stoppen. Het vívomove HR smarthorloge start automatisch uw wandelactiviteiten en u kunt uw dagelijkse activiteiten bekijken op Garmin Connect.
Delen en voltooien
Het synchroniseren van uw activiteiten naar Garmin Connect is niet alleen handig om uw gegevens op te slaan. Garmin Connect is namelijk een levendige community waar gebruikers met elkaar in contact kunnen komen en tegen elkaar kunnen strijden in uitdagingen, elkaar kunnen aanmoedigen en hun successen kunnen delen op social media. Garmin Connect is gratis, Nederlandstalig en is beschikbaar via internet of op uw smartphone met de Garmin Connect™ Mobile app.
1Nauwkeurigheid van activity trackers
2Indien gekoppeld met een compatibele telefoon
Under typical use; battery life may vary depending on usage and selected performance mode